National Wreaths Across America Day
Arlington National Cemetery
Saturday, December 17, 2022
Arlington National Cemetery will require registration of each volunteer for National Wreaths Across America Day.
REGISTRATIONS are only valid for the specific gates and times indicated.
Each hour has a maximum number of entries. Once an hour nears capacity the next hour will be released for registration.
EVENT INFORMATION
Arlington National Cemetery
is located at 1 Memorial Ave., Arlington, Virginia
for a map of the three Arlington National Cemetery access gate options. Then, select your pedestrian gate entrance of choice below to complete your registration.

To ensure a timely entry into the cemetery, please have your registration readily available. We ask that each member in your party have their own registration. Once registration is shown, you will proceed through security screening for entry into the cemetery.
All visitors 16 years of age and older (pedestrians, drivers, and passengers) must present valid photo identification upon entering the cemetery. Original documentation is required. Paper copies or cell phone photos of identification are not accepted.
REMINDER: Sunday, Dec. 11 is Family Pass Holder Day at Arlington. This is limited to Family Pass Holders only. NO registration is required for Family Pass Holder Day.
Arlington National Cemetery is the only participating cemetery where a Family Pass Holder Day is held in conjunction with WAA.
Family Pass Holders are people who have an immediate next of kin laid to rest at Arlington. If you have questions about criteria or how to become a FPH, please contact Arlington National Cemetery directly.
Several people have asked if other National Cemeteries offer Family Passes or a Family Pass Holder Day. Arlington National Cemetery is not part of the National Cemetery Administration, it is run by the Department of the Army. It is the only WAA participating cemetery where this week before placement happens.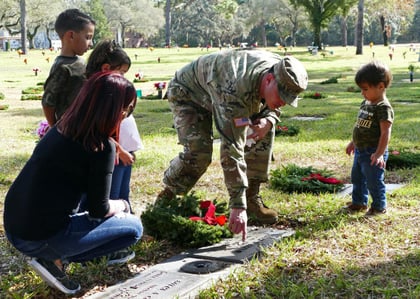 Effective March 3, 2022, based on new Department of Defense (DoD) guidance, Arlington National Cemetery (ANC) is no longer requiring face coverings to be worn indoors, due to low community levels of COVID-19. This applies to all service members, federal personnel, contractors and ANC visitors. ANC will continue to follow DoD guidance and Centers for Disease Control and Prevention (CDC) guidelines as we monitor COVID-19 conditions and will provide updates to policies as required. For more information please visit https://arlingtoncemetery.mil/COVID
Placemakr Hotel is providing a discounted rate for volunteers looking to stay in the area. One bedroom King suite for $99.00