an Opportunity to 'Do Good Twice'
Since its founding in 2007, WAA has partnered with hundreds of like-minded charities, community programs, and civic groups throughout the country to remember and honor our nation's veterans and active-duty military all year long.
The annual Giving in July campaign celebrates these groups and highlights the opportunity to 'do good twice' through the sponsorship of veterans' wreaths through the organization's $5 Back Group Sponsorship Program.
Through the program, donations received in fact 'do good twice' because WAA gives back $5 of each $15 wreath sponsorship made to support the local group's own mission, which include programs helping veterans, military families, youth and more, in communities across the country. Through this national program, WAA has given back nearly $15 million in local contributions over the last 13 years.
Find a participating group in your community by clicking the button below!
"Our Group Sponsorship Program is a year-round effort, but through Giving in July we hope to remind people that veterans and our current military serve and protect us 365 days a year and it is never too early to make a difference in your own community."

- Wreaths Across America Executive Director Karen Worcester
FEATURED SPONSORSHIP GROUPs
LISTEN TO THEIR STORIES
Throughout the month of July, featured volunteers and groups will be joining Wreaths Across America Radio live to discuss their efforts, how the Wreaths Across America sponsorship group program helps them give back within their community, and some fundraising tips. Listen to the live radio interviews on the morning show with Michael W. Hale Monday - Friday 6:00-10:00 AM EDT or listen to selected interview recordings here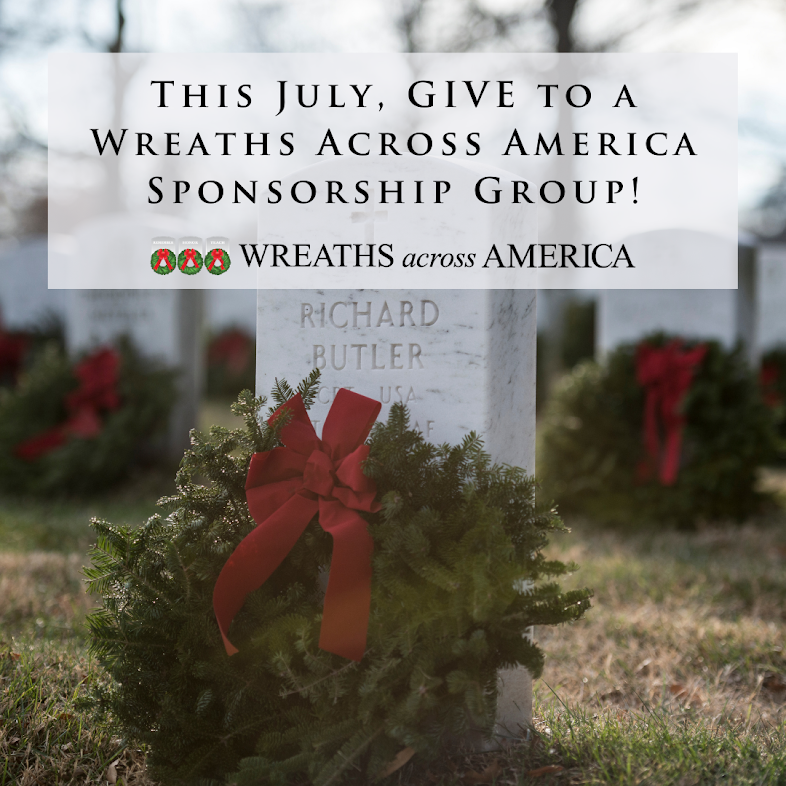 This year, more than 2,500 cemeteries will participate in National Wreaths Across America Day – Saturday, Dec. 18, 2021 – and more than 4,000 Sponsorship Groups are working in their communities to raises funds and awareness to honor the local servicemembers with the placement of veterans' wreaths made of fresh Maine balsam.
Like and follow Wreaths Across America on Facebook, Instagram, Twitter and LinkedIn, and tune in to Wreaths Across America Radio to learn more about the many #GivingInJuly Sponsorship Groups throughout the country and how they are playing a part in their own communities.
Examples of the type of Groups that participate include:
Daughters of the American Revolution Chapters
Civil Air Patrol Squadrons
Scouting Groups
VFWs
US Naval Sea Cadets
Young Marines
patriotic motorcycle clubs, school groups, and more!
To find a Sponsorship Group supporting a participating cemetery in your community, please click here

.



Like the well-known marketing idea Christmas in July, supporting our charity during the summer months provides us the opportunity to encourage others to get involved early with the WAA mission – Remember, Honor, Teach – and support our nation's veterans and military families in the communities they live throughout the year right now when they need it most.

Here's how it works:
Wreaths Across America™ wreath sponsorships are $15 per wreath.
Funds are collected by each participating group.
$5 of each $15 will be returned to the registered sponsorship group on a 30-day reimbursement cycle.
After you complete our group registration form and your group has been processed you will receive a welcome email from Wreaths Across America HQ providing you with your Group ID number and important information about fundraising for WAA.