What is Wreaths Across America Radio?
Along with the informational and inspiring content Wreaths Across America Radio plays a variety of music with the roots firmly planted in patriotism with a country music thread running through the core of the stream. Wreaths Across America Radio has a live morning show every weekday morning from 6 am to 10 am eastern, along with a variety of special programs that support the mission to Remember, Honor, and Teach.
Wreaths Across America Radio
is everywhere you are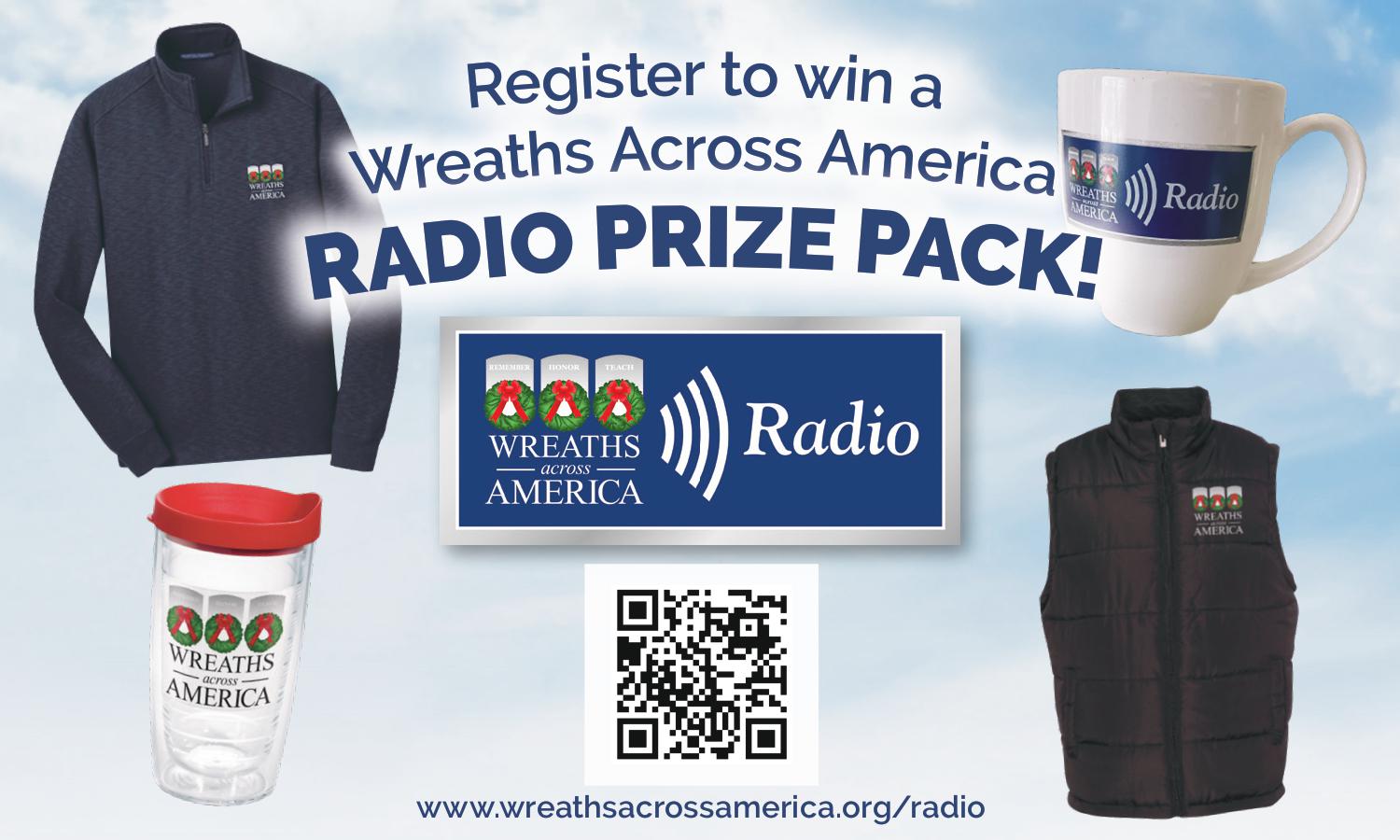 Enter to win!
Thanks for listening to Wreaths Radio! We want to thank you with the ultimate WAA Prize Pack- including a Wreaths Across America sweatshirt, vest, tumbler and mug! Enter to win below!
Share your Interview Ideas
Have an interview you'd like to hear on Wreaths Radio? Share it here!
Michael W. Hale
Monday through Friday 6-10 am est
Michael W Hale is the host of the Wreaths Across America morning radio show. Michael started his radio career at the age of 15 working at a local radio station while attending high school in the mid 1970's. Since then he has worked at several radio stations in Maine as well as ESPN Radio in Orlando and Tampa, Florida. In addition to radio, Michael was a sportscaster, program host and announcer for many years on WABI TV in Maine. He has won various awards from the Maine Association Of Broadcasters. Michael's grandfather, father, many of his uncles and brothers served their country in World War I, World War II, the Korean War and the Vietnam War. His ancestry is traced back to American Revolutionary officer Nathan Hale, who attempted to spy on the British and was hanged in 1776. Michael appreciates the opportunity to honor veterans by sharing the Wreaths Across America mission to Remember, Honor and Teach.
Jeff Pierce


Director OF Broadcast and media partnerships

Jeff Pierce was the 2019 Maine Association of Broadcasters' Broadcast Achievement Award Winner and a 2019 inductee into the Maine Association of Broadcasters Hall of Fame. Jeff Pierce has mentored broadcasters from the earliest phases of their careers to the most seasoned broadcast professionals. Jeff was a Senior Vice President for iHeart Media and has held leadership roles withs Saga Communications, Beasley Broadcasting and a variety of smaller companies.

Jeff Pierce is also the Vice Chairman of the Veterans Forward Board of Directors, the philanthropic arm of the Fed Cap Program helping veterans get the "hand up" they need. Jeff is also the Maine Wing Public Affairs Officer for Civil Air Patrol directing the marketing and outreach efforts of the Air Force Auxiliary in Maine. Jeff serves on the board of the Maine Association of Broadcasters and also teaches as an adjunct professor at Southern Maine Community College in the Communications Department.
Susan Patten


Mondays at 6PM EST,
Tuesdays at 11AM and 4PM EST, Thursdays at 11AM and 7PM EST

Susan Patten was an award-winning journalist who brought her patriotism and passion to Wreaths Across America as a media content specialist. Through photography, writing, or broadcast, Susan shares the stories of active-duty military, veterans, Gold Star families, and volunteers on the organization's website, social media platforms, and Wreaths Radio.

Susan holds a B.S. in Communications and genuinely enjoys her interviews and interactions with our nation's servicemen and women, their families, and the committed volunteers who support them. Susan has an extensive background in broadcast journalism, media relations, nonprofit development, and public speaking.
Miss an interview?
don't worry - It's on sound cloud.
An Impactful Line-Up
Mondays-

Medal of Honor Mondays
6 am to 10 am ET Michael W Hale and Wreaths Across America Radio Morning Show

9:15 am and 3 pm ET Meet the Daughters of the American Revolution
10 am to 11 am ET Sword and Pen by Military Veterans in Journalism

11 am to Noon ET American Warrior Radio

Noon to 6 pm ET US Navy Veteran Chuck Igo

6:00 pm to 6:30 pm ET The Military Musicians Showcase: Susan Patten gives you a backstage pass to some of the finest musicians the US Military has to offer.
7:00 pm to 8 pm ET The American Hero Show podcast with Travis Mills
8:00 pm to 9:00 pm ET Roundtable Redux
9:00 pm to 10:00 pm ET Vet Chats
10:00 pm through 6 am ET Wreaths Across America Radio with stories from Volunteers, Gold Star Families, and a mix of Patriotic/Americana/Country Music
_____________________________________________________________________________________________________________________
Tuesdays: Trucking Tuesday
5:00 am to 6:00 am ET America's Trucking Network
6:00 am to 10:00 am ET Michael W Hale and Wreaths Across America Radio Morning Show
10:00 am to 11:00 am ET America's Trucking Network

11:00 am to noon ET Trucking Tributes with Susan Patten

Noon to 4 pm ET Justin Manning, TSGT (ret) USAF
4:00 pm to 5:00 pm ET Trucking Tributes with Susan Patten

5:00 pm ET to Midnight ET Lola Starr, Southern Maine Community College Student
Midnight through 6 am ET Wreaths Across America Radio with stories from Volunteers, Gold Star Families, and a mix of Patriotic/Americana/Country Music
_____________________________________________________________________________________________________________________
Wednesdays
6 am to 10 am ET Michael W Hale and Wreaths Across America Radio Morning Show

9:15 am ET and 3 pm ET Meet The Goldstar Mothers

10:00 am to 11:00 am ET Mission Matters with Executive Director Karen Worcester and Director of Military and Veterans Outreach Joe Reagan

11:00 am to 12 pm ET Veterans Corner Radio with Bill Hodges

12 pm to 6 pm ET The Chris Chapman Radio Program
6:00 pm ET The Got Your Six Podcast with Tony Nash

7 pm ET Mission Matters with Executive Director Karen Worcester and Director of Military and Veterans Outreach Joe Reagan

8 pm to 9 pm The Music that got Us Through World War Two with Brian Nadeau
9 pm to 10 pm Today with Tally
10 pm to midnight ET Alex Griffin, Southern Maine Community College Student

Midnight through 6 am ET Wreaths Across America Radio with stories from Volunteers, Gold Star Families, and a mix of Patriotic/Americana/Country Music
_____________________________________________________________________________________________________________________
Thursdays
6 am to 10 am ET Michael W Hale and Wreaths Across America Radio Morning Show

7:15 am Meet the Civil Air Patrol: We highlight members of CAP that support the mission of Wreaths Across America

9:15 am ET and 3 pm ET Meet The Goldstar Wives
10:00 am to 11:00 am ET The Veterans Voice Project

11:00 am to noon ET Oscar Mike Radio
12 pm to 1 pm Celebrity Salute

1 pm to 6 pm ET Tony Sequeria, USMC Veteran

6 pm to 7 pm ET American Warrior Radio
7 pm to 8 pm ET Veterans Voice Radio
8 pm to 9 pm ET Veterans Corner Radio with Bill Hodges

9 pm to 10 pm ET Welcome Home Veterans Show
10 pm to 6 am ET Wreaths Across America Radio with stories from Volunteers, Gold Star Families, and a mix of Patriotic/Americana/Country Music
_____________________________________________________________________________________________________________________
Fridays
6 am to 10 am ET Michael W Hale and Wreaths Across America Radio Morning Show

10 am to 11 am ET Podcast with A Cause
11 am to 12 pm ET The Veterans Forward Podcast

Noon to 4 pm ET JR Kitchens US Navy Veteran

4 pm to 6 pm ET Cup of Joe Radio: Mike and Irene Spotswood play great music and talk about veteran's issues

6 pm to 7 pm The Washington Tattoo Podcast
7 pm to 8pm Women of the Military Podcast
8 pm to 9 pm The Mental Health Warrior Podcast
8 pm to 9 pm Veterans Breakfast Club
10 pm through 6 am Wreaths Across America Radio with stories from Volunteers, Gold Star Families, and a mix of Patriotic/Americana/Country Music